consulting offering 
Robotics automation services
Botshare Robotics is your go-to partner for automating your logistics processes, improving the efficiency, speed, and accuracy of your operations. We specialize in providing customized solutions for small and medium-sized manufacturing and warehouse businesses using mobile robots.

We offer a range of options to fit your needs, including AMRs from our European or Chinese partners or our own affordable and reliable AMR solution for simpler cases.

Our performance-based approach ensures that we only earn after you achieve cost savings, building trust and confidence in our services. Our dedicated personal managers will work closely with your team to analyze your needs and provide tailored solutions with fast payback.

Don't let your logistics processes slow you down - let Botshare help you streamline your operations and maximize your profitability. We're not just selling robots - we're selling the opportunity to free up your time and resources, so you can focus on what really matters: taking your business to the next level.

Warehouse automation use case 

Botshare solutions optimize material flow within warehouses, and Distribution Centres to ensure operational success, increased productivity and profitability.
Our Team provide the technology and expertise to automate the functional areas of your warehouse, using both our own AMRs or our partner's AMRs.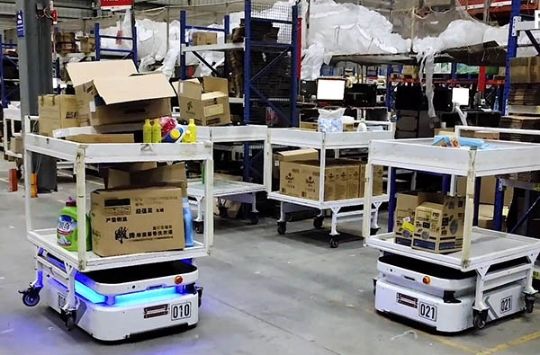 Production automation use case
Botshare solutions increase the efficiency of your production logistics. Accuracy, reliability and productivity are essential to the success of any material handling in industrial processes.
The Botshare team provides seamless and high-quality integration of robots of our development, as well as our partners' developments.
AMR automatization Process
The introduction of robotic automation has common stages for warehouse and production enterprises.
for free!
Analysis of logistics operations
Analysis of the enterprise, studying the possibility of optimizing processes using the LEAN methodology, analyzing existing workflows and processes, individual procedures and identifying those that are necessary and can be automated using autonomous robots.
SIMULATION/DIGITAL TWIN
Modelling, visualisation, feasibility study. Assessment of the feasibility of automation based on technological and economic indicators.
Detailed analysis of the current state and material flow requirements to evaluate the optimal set of automation tools and methods. Schematic study and first drafts of new material flows and infrastructure. Verification of the results of the planning phase using material flow simulation. Specialised modelling of use cases for mobile robots. Detailed animation of material movement with advanced analytics. 

SELECTION
Selection of AMR and related components according to the requirements of preliminary analysis and simulation.
Supplier sourcing from our partner list for your specific needs based on commercial and technology criteria, meeting the requirements of the technical specifications, delivery time, and cost.
Discussion of the concept with manufacturers, development of a detailed and fixed commercial offer with the client and suppliers, support in negotiations on price, ordering, payment and delivery.

OFFERING
Final proposal based on simulation and real testing with robots. ROI and productivity calculation based on supplier proposals and expected productivity gains. Commercial optimization and selection of the most cost-effective use cases. 
Supporting the decision making process with all relevant stakeholders. 

IMPLEMENTATION
Developing combined AMR/Human workflows, determining the best way to combine humans and AMR for this particular deployment, adjusting the simulation for selected robots, staff training. Additional customization of robots or infrastructure if necessary. 

DEPLOYMENT
Introduction of AMR and components, commissioning and implementation of new AMR workflows. Adjustment of robots and processes to achieve maximum results, safety and maintenance training. 

LONG-TERM SUPPORT AND MAINTENANCE
Further maintenance of the system, upgrades, expansion of hardware and software to adapt workflows based on feedback, repair and replacement of spare parts of the system.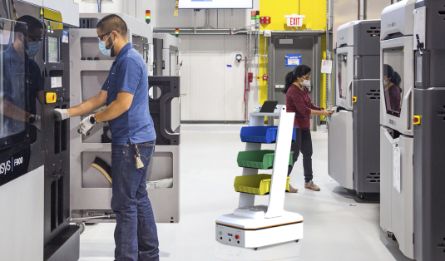 doing automation since 2007
At our team, we possess a deep understanding of the intricate workings of robots - from the quality of components to the most cost-effective options for your business. As we work in close partnership with leading robot manufacturers, we can offer you the best quality service, tailored to your specific needs.

Our team is equipped to provide an end-to-end solution for your automation needs, including customizations or the implementation of technically complex solutions. You can rely on us to provide top-notch services that will save you both time and money, and help increase your enterprise's competitiveness.

We are committed to your success and will be with you every step of the way in your plant automation journey. Don't hesitate to contact us for any assistance you may need.

Internal logistics planning (Intralogistics)
Our team offers comprehensive planning services for intralogistics processes, tailored to the specific needs of warehouses, manufacturing facilities, and industrial premises. We take a holistic approach to optimize your operations, from analyzing existing workflows and identifying areas for improvement, to designing and implementing customized solutions. Our expertise covers everything from material flow analysis to warehouse layout design, and we work closely with our clients to ensure their needs are met at every step of the process. With our help, you can achieve greater efficiency, productivity, and cost savings in your operations.

Mobile robots for goods to persons or sorting
We provide end-to-end support for the selection and implementation of mobile robots, ensuring that you get the best value for your investment. Our services include conducting a comprehensive price/quality analysis of available options, working with tender documents, representing your interests, and developing or selecting customized solutions that meet your specific needs.

Furthermore, we offer testing and validation services to ensure that the selected robot meets your requirements before deployment.

In addition, we can assist with planning and bidding for picking solutions such as Goods-to-Person and Zone Picking, streamlining your intralogistics processes and enhancing overall efficiency.

Customization, development, Innovation

We understand the importance of staying up-to-date with the latest advancements in warehouse and production technology. Our team is dedicated to accompanying you throughout the entire process, from initial consultation to implementation and beyond. We take pride in our ability to find and develop cutting-edge solutions tailored specifically to your unique needs and requirements. With our expertise and guidance, you can be confident in achieving optimal efficiency and productivity in your warehouse or production facility.

We offer advanced simulation tools to analyze and visualize the performance of your material flow during the automation process. Our simulation solutions help you to optimize and streamline your processes and ensure that the system meets your requirements before it is implemented.

Exploring the possibilities of automation
We utilize a combination of business and technology criteria to identify use cases with the greatest potential for automation, ensuring that the solutions we offer are not only effective, but also aligned with your business objectives.

Logistics Automation Software
We offer a comprehensive range of cutting-edge solutions, including cloud-based services, robots for rent (RaaS), machine learning-based analytics, predictive maintenance, and remote deployment and implementation. Our goal is to provide you with flexible and cost-effective options that meet your specific needs and help you achieve your automation objectives. With our advanced technologies and expertise, we can help you optimize your processes, increase efficiency, and drive business growth.

Repair, maintenance of any robots
We provide comprehensive robot maintenance services for all major manufacturers. Whether you need repairs, replacements, or routine maintenance, our expert technicians are available on-site or online 24/7 to support you. You can count on us to keep your robots running smoothly so that you can focus on your business.

Imagine a world where your robots arrive on the same day you order them, ready to perform high-quality work without the need for constant maintenance. What if you could leave the lengthy implementation process to us, and have peace of mind knowing that your robots are working around the clock, supported by our team 24/7? Let us help you make this vision a reality.

OUR PARTNERS
WHO TRUSTS US
At Botshare Robotics, we believe in the power of collaboration and partnership. That's why we work closely with top-notch enterprises worldwide, including leading manufacturers, R&D institutions, robotics developers, and governmental agencies. By sharing knowledge and resources, we learn from each other and grow together towards mutual success on a win-win basis.

Contact us
We are happy to discuss cooperation and answer your questions.